Let's Make This Clear
Let's make this clear — this is not your a typical road trip.  Our Route 66 Tour is going to be very comprehensive.    I've studied other Route 66 websites and books, and if you have interest in Route 66, you'll want to follow our adventures.
I'll bet after a couple of days on the road we'll be hearing from would-have-been-sponsors.  Don't regret this chance.  Now is the time to set up and get on board.
The Plan to Make this Work
We realize there are many of you who will never get to drive Route 66.  You're Americana fans, but for various reasons you'll never drive the Mother Road.  The plan is for us to provide you with an armchair experience of traveling Route 66.
Our days will be half filled with shooting, and the remainder filled with driving, uploading images and video, and writing about our experiences.  That's why we estimate it will take us more than 30 days to complete!
For Sponsors
For sponsors that means 30+ days of advertising.  But, not just any advertising.  Our plan is to present your products or services in context with our trip.
Let me give you an example…
Let's suppose your company (we'll call you Best Widgets) sponsors for a day (i.e. $100 level).  That night people following us will see, hear or read, "Hey, we'd like to thank Best Widgets for providing us with one of their widgets today.  Here's a photo Paul took using the Best Widget.  We've fallen in love with Best Widget and thank them for their sponsoring our lodging last night.  Without people like the people at Best Widget this journey wouldn't be what it is – spectacular."
For Interested Individuals
Let's say you're not a company, but want to help us make this a success.    We'll be happy to mention you too.  Just send us your sponsorship and tell us how you want to be mentioned.
Here are some individual ideas…
Sponsor us for the date of a friend or loved one's birthday.  Have us wish them a happy birthday.
Pick a location and sponsor us for the day we're in that location.  It could be a family member's birthplace, for example.  Tell us what's important about that location and who your message is for and we'll make sure they get the attention you want them to have.
Sponsor us for a specific location and tell us what you want to see at that location.  For example, you may have wondered about the TeePee Motel.  Sponsor us for that location and tell us what you want to see while we are there.

Example:  "A special shout-out to Bob for sponsoring us today.  Bob wanted to know more about the TeePee Motel so here's a visual tour just for Bob."

You might want a postcard from a specific location.  Let us know when you sponsor us.  We'll send you a postcard with a handwritten note thanking you for your contribution to our trip.
You can provide sponsorship via GoFundMe.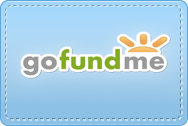 For Your Entertainment
For your entertainment, here's one of the best Route 66 renditions by Asleep at the Wheel (live)…